The School of Self-Empowerment and Hope
A WELCOME MESSAGE
from the Director, Shumaila Hemani, Ph.D.
We offer courses related to music and wellness based on traditions of wisdom, principles of positive psychology, Jungian psychology, and research in the discipline of Ethnomusicology. Using the power of your singing voice and mindfulness meditation practice, we will build tools to strengthen love, compassion, and resiliency. You can begin anywhere from a mini-course or a flagship course on singing and integrate the principles of wellness to enhance your life experience and become a light-worker.
MEET THE INSTRUCTOR
Former Music Faculty, Semester at Sea, Spring 2020 voyage
Contributing Author, Amazon's #1 Bestseller: The Power of Why 29 Musicians Climbed to Superstar (and so can you)
Hi, I'm your instructor, Shumaila Hemani. I am an Alberta-based Sufi singer-songwriter and acousmatic composer with a Ph.D. in Music from the University of Alberta, Canada. I have served as a Music Faculty at the University of Alberta (2016) and Semester at Sea, Spring 2020 voyage.  I am very excited to have you in my course and looking forward to sharing with you the power of music in awakening your intuition and caring for yourself in these unprecedented times. 
Student Testimonials Sharing their Transformation
Semester at Sea, Spring 2020 Voyage
I want to thank you for your time and patience with us during these difficult times. It has been an honor to take your class, it is definitely one of the most remarkable classes I took during my time abroad and it has shaped me to become the person I am today. I'll be forever grateful! (Marbella, Mexico)
Thank you for the learning opportunity! You provided us a unique way to meet that requirement that still allowed us to have our creative input and experience. Thank you for making the best of this unusual and sometimes challenging situation. I hope you are safe and well. Blake, student of Soundscapes: Music as Human Practice, (Blake, US)
In-Person and Online Workshops, Masterclasses, and Courses
Sufi Singing Workshop at Alberta Registered Music Teachers' Association (ARMTA)
Edmonton, 2019
Hemani has conducted workshops and lecture-demonstrations internationally for children, teenagers, and adults, and the following are the most prominent highlights: 
•    Lecture-Demonstrations at the Semester at Sea, Spring 2020 Voyage
•    Lecture-Demonstrations Introduction to World Music and Music for Health, University of Alberta (2013, 2014, 2016, 2017)
•    Lecture Demonstration at the Singing Storytellers' Conference, Cape Breton
•    Alberta Music Teachers' Association (2019)
•    Philosophy for Children Camp (2015)
•   The Canadian Centre for Ethnomusicology (CCE) (2012)
An Award of Resiliency in Teaching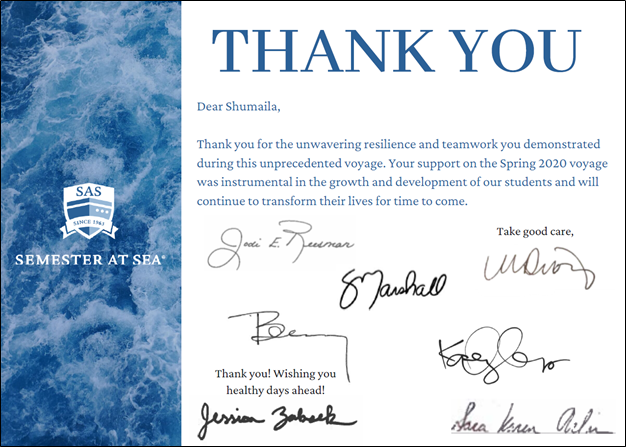 RELEASE YOUR CIRCLE OF CHAOS WITH RUMI'S POETRY (MASTERCLASS)
MASTERCLASS # 1 RELEASE YOUR CIRCLE OF CHAOS WITH SUFI SINGING
Sufis have considered love as a school for self-empowerment and hope. Their lessons in the wisdom of love expressed through poetry and singing have inspired people worldwide to find the dost/yarr/habib (friend) within themselves. This masterclass series titled: Sufi Singing for Self-Empowerment and Hope focuses on understanding how we can apply the wisdom of Sufi poets to give ourselves the necessary love to heal from past traumas, abuse, injustices, or familiar feelings of abandonment, rejection, and lack of love and support?
The first MASTERCLASS in the series is titled: Releasing your Circle of Chaos with Sufi Singing, focuses on releasing habits, people, or situations that bring pain, anguish, disappointment, anger, or resentments in our life and no longer serve our well-being. We will be involved in guided meditation and journaling and learning the deeper meaning of Rumi's poem: Na man behooda girday that focuses on the state of a lover longing for their beloved. Singing this poem will help us be kinder to ourselves and give ourselves the unconditional love to live life meaningfully and in a state of deep creative flow.